Out soon!
New EP - four new original songs - Click, Clack, Clickety Clack - Glitter On The Spokes - My Name Is K. P. Nash - Qarantine Rock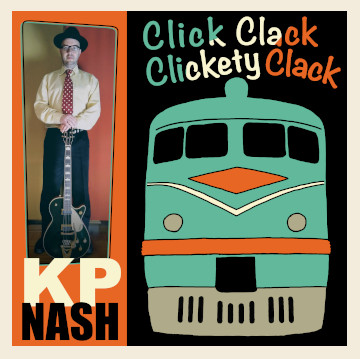 Travis Picking
The basics of Travis picking, with all nuances. Become a pro rockabilly player in under 4 mins!
Mistery Train, the main Scotty Moore's riff. There's a secret trick that only a few folks get right! Plus customary slapback echo and reverb considerations.

[to the top]
Cliff Gallup
When I was a school boy listening to those recordings from the past, Hal Harris taught me Travis picking. B. B. King taught me how to play bluesy be-bop licks. It was Cliff Gallup, who finally taught me to play rockabilly! I wonder if at some point my collection of Cliff Gallup's tabs becomes complete.
Ain't She Sweet tabs video
BI-Bickey-Bi, Bo-Bo-Go tabs video
Blues Stay Away From Me tabs video
Bop Street tabs video
Crazy Legs tabs video
Cruisin' tabs video
Double Talking Baby tabs video
I Flipped tabs video
Jump Back, Honey, Jump Back tabs video
Who Slapped John tabs_1 tabs_2 tabs_3 video
Woman Love (2nd solo only) video

[to the top]
Various guitar tabs and instructionals
Alligator Come Across - Arlie Duff / Grady Martin tabs video
Blues Blues Blues - Hayden Thompson tabs_1 tabs_2 video
Bop Bop Ba Doo Bop - Lew Williams / Barney Kessel tabs video
Don't Bug Me Baby - Milton Allen / Hank Garland tabs video
Let's Elope Baby - Janis Martin / Chet Atkins video_1 video_2 video_3
Love My Baby - Hayden Thompson / Roland Janes tabs video
Midnight Shift - Buddy Holly video_1 video_2 video_3
Milkcow Blues Boogie - Elvis Presley / Scotty Moore tabs_1 tabs_2 tabs_3 video_1 video_2
Red Cadillac and Black Moustache - Warren Smith / Al Hopson + Bob Luman's version tabs_1 tabs_2 video
Rock'n'Roll Ruby - Warren Smith / Buddy Holobaugh tabs video
Rock, Roll, Jump and Jive - Curtis Gordon, guitar arrangements of the original steel guitar solos video_1 video_2
Sixteen Chicks - Joe Clay / Hal Harris video_1 video_2 video_3
Slippin' Out and Sneakin' In - Joe Clay / Hal Harris tabs video
You Oughta See Grandma Rock - Sceets McDonald / Eddie Cochran tabs video

[to the top]
Me playing songs
Lavatory Rag (my own tune)
White Christmas
Don't You Do Me No Wrong
Cocaine Blues
So Round, So Firm, So Fully Packed
You Can Do No Wrong

[to the top]
About me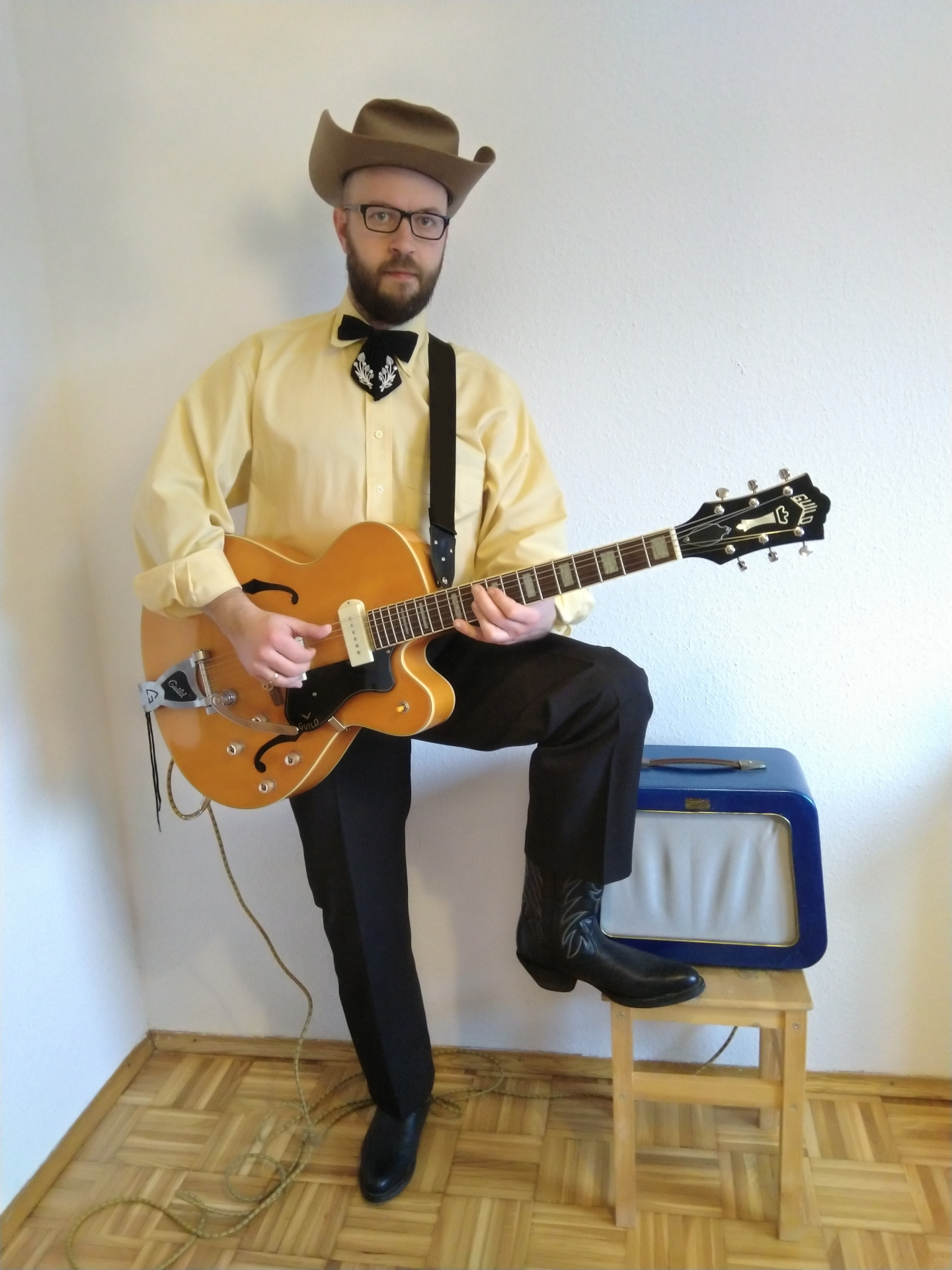 Guitar player. Singer/songwriter. Software engineer. Tube electronics hobbyist. Road cycling fan. All the way from the Palatinate, Germany (that's to the west from Karlsruhe, to the north from France, in case you wonder...)

Have been playing guitar and singing with these bands:

Lucky Rockets (Stuttgart, Germany)
King Porter (Düsseldorf, Germany)
Neva River Rockets
Red Onions

...also, backed rockabilly artists such as R. J. (Netherlands), Karling Abbeygate (USA), Sneaky Pete (Netherlands), Red Martin (Germany)

My discography:

Rockabilly Moonquake (Lucky Rockets, 2021)
Mixed Up (RJ, 2009, Thombstone Records)
Time to Have a Time (Neva River Rockets, 2009, TCY-Records)
Moonshine Troubadours (Neva River Rockets, 2007, TCY-Records)
Rockets' Roll (Neva River Rockets, 2005, TCY-Records)

Some videos of those bands:

The Week (Lucky Rockets, Rockabilly Moonquake album)
Move Around (RJ, Mixed Up album)
Oh Sugar (RJ's live show from 2008, in fact, here's a YouTube album with the complete show)
Intercity Express (Neva River Rockets, Time to Have a Time album)
I Wish My Day Had 25 Hours (Neva River Rockets, unreleased, live)

[to the top]
Social media and contact
YouTube channel
Soundslice - tabs
Facebook

[to the top]
License

Guitar transcriptions/instructionals by K. P. Nash are meant for research, education and preservation of cultural heritage and are licensed under a Creative Commons Attribution-ShareAlike 4.0 International License.

That means, you can use and share those as you like, including commercial use, as long as my name gets mentioned and, if you base your own research or educational work on those, you'll have to allow using/sharing the outcomes under similar terms.

Disclaimer. Modern guitar playing is a complicated matter that can't be fully described by sheet music because perception of guitar parts highly depends on details such as picking patterns, fingering, use of specific features of particular guitar types (e. g. tremolo systems), sound/signal processing etc. which can not be represented by music notation. On top of that, various imperfections and playing mistakes should be added. Every guitar transcription by K. P. Nash aims to capture as much of such details as possible, going beyond the standard sheet music approach. Essentially, every transcription is a research aimed to recreate the way a song/guitar part was played down to tiny details in order to preserve it as a part of cultural heritage and possibly use it for education. Such research requires many various kinds of analysis, sometimes using advanced techniques and technology facilities, also a big amount of guesswork, with guitar tablatures and instructional videos presenting the research's outcome. Therefore, the aforementioned Creative Commons license applies to tablatures and videos as research outcomes and shouldn't be confused with any licenses for songs and original recordings which are protected by their corresponding copyrights.

[to the top]